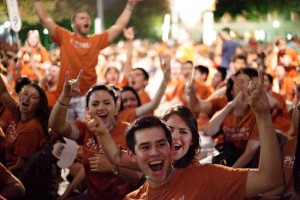 Moving to a new city can be intimidating, especially a vast growing city like Austin, Texas. It can be intimidating if you're from Austin but moving to West Campus to be close to school. Part of the many lessons you will learn and get to experience in college is stepping out of your social comfort zone and making new friends. College is a perfect time to do so and to learn new things about yourself and interesting facts about new people.
Living in West Campus will offer you events, social gatherings, and more that are just a short distance from your home. It's not always easy making new friends in a new setting but from what I have learned in Austin the last ten years of living here is that it is a very friendly place! Perfect place to make new friends and Austin provides many hip and welcoming places to hangout.
Where can I find these events and hangouts? They are all around you! There are many Facebook pages and meet up groups all over Austin which would assist in mending new relationships. West Campus also has an array of neat hangouts and restaurants that host study sessions and discussion groups. Along the drag you can find book stores and coffee shops that offer seminars with a broad selection of topics. Step out of your comfort zone and hear the opinion of someone who you feel may view things a little different, you never know what you may learn!
One way to branch out to a new group of friends would be to join in the Greek Life. By offering a diverse community which can help you enjoy the best college experience possible through engaging students and helping them dedicate their time to a proper balance of academics, community building and activities.
West Campus is a very fast paced area with groups and groups of students going to and from class, most if not all in the same mindset and experience you are looking for. Invite a new friend from class to Cafe Medici for a quick cup of joe and discuss the topic of your philosophy class! Check out Brave New Book Store to spark some critical thinking in how this country and world may seem. You might surprise yourself and meet some new people!