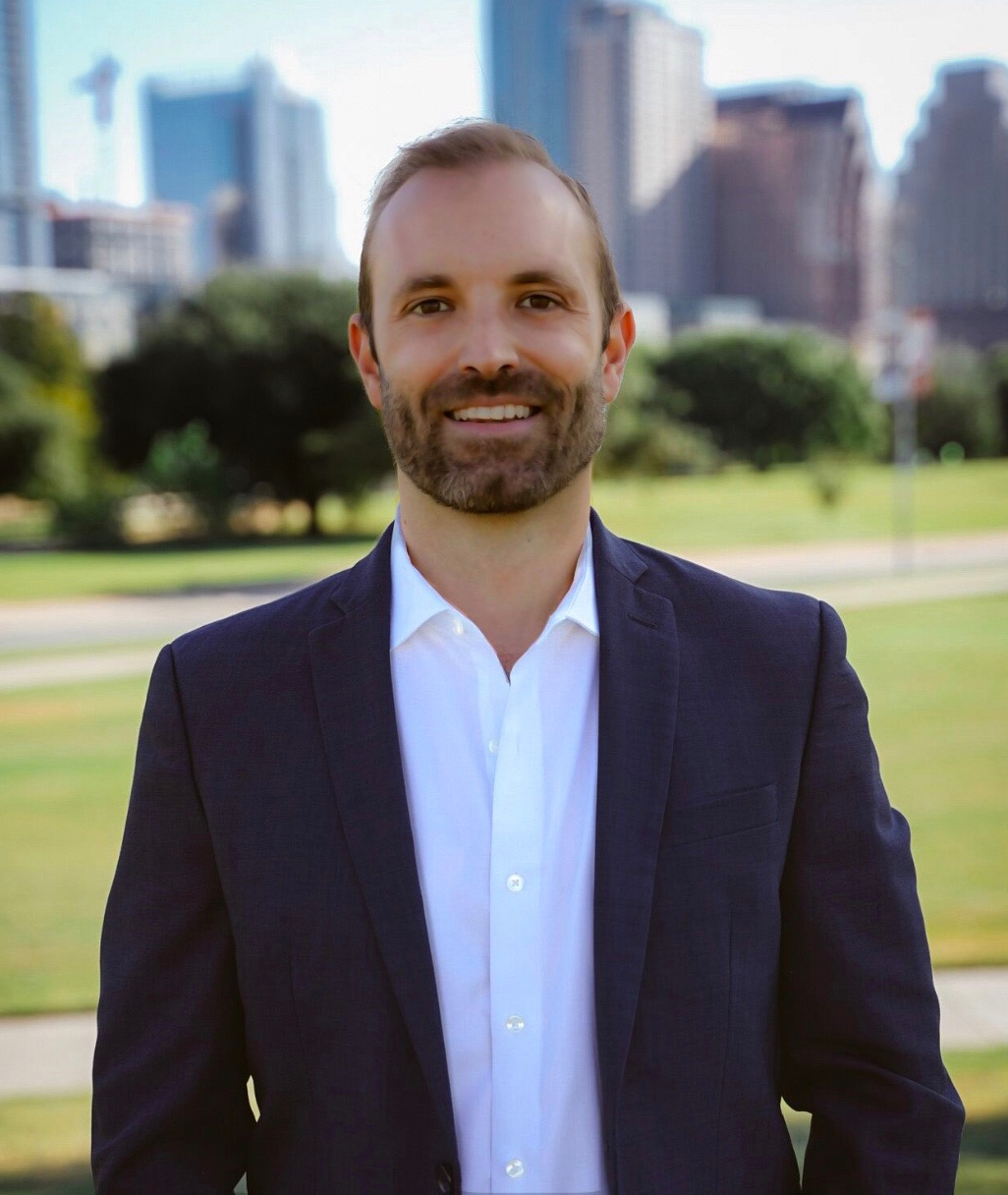 Originally from San Antonio, TX Russell Cavin started his career as a Realtor with Uptown Realty while attending The University of Texas at Austin. Now years after graduation, Russell has earned his Broker's license and continues working at Uptown Realty. Over the years Russell has become an expert in the campus and surrounding area. As an Austinite for over 10 years his knowledge of the city extends far outside the campus area as he has performed many transactions all across Austin.
When not working the best deal possible for his clients Russell volunteers his time as the Director of Special Events with Keep Austin Fed, a local food rescue non-profit helping to bring surplus food to the community in need. Russell is a huge animal lover and can often times be seen at the office or around town with his rescue dog, Kevin. Additionally, Russell's love for animals can be seen through his volunteer work with Texas Humane Legislation Network, and fostering multiple dogs through Austin Dog Rescue.
When not working or volunteering Russell loves to travel the world experiencing new cultures and ways of life. He also stays very active around town riding his bike, kayaking, rock climbing, or wakeboarding. You may also catch him enjoying live music or laughing with friends across Austin.
Testimonials
As a first time home buyer, Russell made the entire process enjoyable from start to finish. He did an excellent job of explaining everything in great detail. You can tell he is extremely knowledgeable of Austin's real estate and really just real estate in general. We had a few unexpected things come up but he smoothed things out for us and made the process as stress-free as home buying can be. Plus, he's just one of the nicest people you'll probably ever meet. Would absolutely (and actually do) recommend to anyone looking for property in the Austin area.
I am a first-time home buyer, and I would have had half the confidence in my decision without Russell.
When I first contacted Russell, he spent 45 minutes with me over the phone answering 101 questions. His generosity continued throughout the entire process.
He flawlessly supported my needs from when I had 0 knowledge all the way to a home purchase I am confident about.
It doesn't get any better than Russell! I've worked with several realtors on leasing our property, and he has gone well above what they had done. He hired a professional photographer, was readily available to meet and answer our questions, had incredible tips and knowledge, and was an absolute pleasure with which to work. He also had creative ideas to solve some tricky issues. I cannot recommend Russell enough. He's a good person and incredibly honest.
I worked with Russell Cavin of Uptown Realty to purchase my first home. He couldn't have made the process any easier. Russell was very knowledgeable, both of realty in general and specific to Austin, and was also extremely patient with all of my first-time homebuyer questions. He was incredibly easy to work with, always willing to go the extra mile, and perpetually available. I would recommend his services to anyone, especially a first time buyer.
Amazing! Asked the questions I didn't even know I needed to ask! He was so helpful with dealing with the landlord for us. We just sat back and let him work.
I worked with Russell Cavin of Uptown Realty to find property near UT Austin for my child. Russell was very knowledgeable, both of realty in Austin downtown and specific to University of Texas. He took care of property inspection and contractor arrangement on our behalf since we live in California. He was incredibly easy to work with, always willing to go the extra mile and available all time for our request. I would recommend him to anyone.
Russell helped my roommates and I find the perfect duplex in the perfect location this summer! He listened to all of our wants and needs for a place and took us to several places before we found this one. Russell was very patient with us when we needed more closet space in almost every place he showed us. Russell is great and I would highly recommend him to anyone!
I was incredibly impressed with Russell's knowledge and work ethic. As a first time home-buyer, he was a great agent to have simply because he held my hand through everything and always pointed me in the right direction. I love my house today and would definitely recommend using Russell.
Russell was amazing! Very attentive and prepared for each showing. Honest about both positives and negatives with house features, prices, locations, etc. It wasn't easy to find a house big enough to fit 3 people, an office, and 3 pets... Russell took us to see houses multiple times & we found the best house! Great experience.
The software behind the company is pretty cool. It just automates all the searches I was already doing, to where the leads were funneling into me. Probably not too dissimilar from any other realtor software.
What really separates this realtor experience from any other realtor company, however, is Russell. He was always excited to help in any manner and was flexible around my schedule which does not go unnoticed.
I could definitely tell he had my best interests at heart, and had great input. If you're debating between having a realtor and not, it is essential to have a set of trained eyes that knows what to do throughout the whole process.
10/10 would recommend.
We had a great time working with Russell Cavin. He was extremely responsive, communicative, and made our first time working with a realtor extremely easy. We are going to recommend him to everyone we know!
Russell was a pleasure to work with. At every turn of the process he was able act effectively, and made us feel confident that we were going to achieve our goals.
Russell Cavin was amazing! He helped my roommates and I so much and made our search for a rental home so easy! Highly recommend, not even joking!! He's the best, A plus, the realest. Bless his heart and soul.
I can't recommend Uptown Realty enough, especially Russell Cavin. I had less than a month to move from my apartment into a new house and Russell wasted no time, even responding to my anxious emails in the middle of the night. He made himself accessible to my roommates and I 24/7 and found me a ton of great options exactly matching my preferences. In just 2 weeks, he was able to have my roommates and I in our dream home with an amazing negotiated rental price under our budget. Russell is a superhero, and I guarantee you won't be disappointed with Uptown Realty!
Russell has made our search for a rental home so easy! I have two large dogs, and he was able to find a house with a great yard for them. We had a hiccup with the first home we tried to lease due to things out of his control, but he was able to smooth that out and get the ball rolling on another home. I highly recommend him to anyone looking to rent or buy.
Moving from San Francisco, I was referred to Russell Cavin by a friend that had used him previously and I've been beyond pleased. He's made this headache of a move go so smoothly. - super quick in responding, great communication, video walk through of all desired locations, and was able to send my deposit since I wasn't there to do so. Highly recommend their services to anyone moving to the area.
My girlfriend and I worked with Russell Cavin to find a suitable new home. He was always quick to respond to any questions we had and showed us multiple properties until we found the right one. Finding a new place was stressful but would have been so much more without his help! Highly recommend!
Great experience finding the perfect apt in a great location at a great price. Worked with Russell Cavin and he did a great job at finding us a place while we were in a different city by providing a thourough analysis of the area and complex.