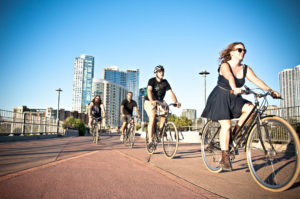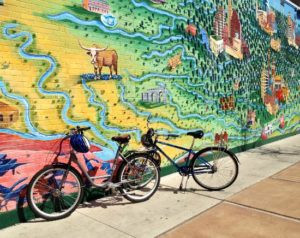 Getting around Austin, Texas can be quiet the tasks with all the influx of people and lack of infrastructure catering to transportation. Austin has always been a backed up city due to the small infrastructure and of course, Interstate 35, once of the busiest interstates in the country that runs right through our beloved Downtown. It doesn't matter what time of day it is, you can expect stop and go traffic at some point before leaving the city North or South. One of the benefits of this traffic is the fantastic view it allows for drivers. You can see the skyline clearly along with our beautiful University of Texas campus with the clock tower and stadium where our football players kick butt and take names.
One of the best ways to feel stress free and get to where you need to be is by renting or purchasing a home close to where you work and spend most of your time. Many Austinites have to commute at least six miles to their work which is one of the main causes of traffic during rush hour. If you are able to find a place where you can walk to and from work, you are set! Not only is it environmentally friendly, it's great exercise and there are plenty of sidewalks and trails to take in Austin.
Another less stressful way of getting around is good ole fashion biking! Not only does West Campus have many bike shops with all your bike pros to help you out but it is becoming more and more a bike friendly city. Each year there are more and more bike lanes opening up for the two wheeled commuter. Making it much more safe to ride your time where you need to go. It is healthy, environmentally friendly and at times of heavy traffic, you can actually arrive at your destination much quicker than driving a car. There are safely precautions you have to take with biking and be costly but much cheaper than car maintenance. You'll need a good helmet, top of the line bike lock and to be sure your tires, chains, etc are all in working order before hoping on your bike.
As Austin grows the city attempts to make the public transportation more reliable and efficient but with a lack of a subway or train that travels through the city from North to South, taking public transportation just isn't reasonable for many people. Although it is a great choice for intercity travel, especially with the new "Metro Rapid" that can shoot you from north of the city to downtown in a matter of minutes with the ability to keep lights green or yellow longer. These buses are air conditioned and very comfortable for passengers. The fare is reasonable but the best bang for your buck is to get a monthly pass with an app you can use on your phone to scan on the bus each time you get on. Not only is taking buses environmentally friendly but it allows for less cars on the road, less stress for people and of course less traffic. With less traffic you have more time in the morning for yourself before work and school.
With all of these methods of transportation apart from taking your car, you also have to keep in mind the parking aspect in Austin, mostly around the University of Texas. We all know parking can be difficult and nearly impossible at times which is another reason to walking, biking, and buses are an ideal choice, especially for students.