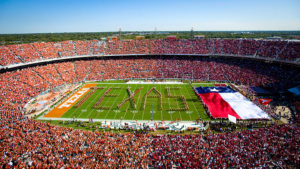 Now that fun football season is upon us and The University of Texas seems to be kicking tail so far, there are many people who don't have the luxury of actually attending the football games. So, what is the next best thing? Everyone talks about tailgating, which is a blast but where do you go once the tailgate is over and the game is on?
There are plenty of hot spots in West Campus, so close you can feel the exciting vibe of the game just blocks away on the other side of Campus. One great spot is Cain & Abels on 24th Street and Rio Grande. With an array of televisions to get a good view of the game, Can & Abels also has great American food along with dozens of beer on tap. Cain & Abels has been a part of the University of Texas West Campus culture since 1991 and continues to be a hopping spot, especially during football games.
Another great venue with some of the biggest, HD flat screen TV's I have ever seen are located at Tap 24, right where you guessed it, on 24th Street. Sitting in the heart of West Campus, Tap 24 has great appetizers that compliment their wide selection of adult beverages and there isn't a bad seat in the house. Any place you sit has a great view of one of their many TVs. Tap 24 seems to always host people who are very excited when their team does well, so be ready to cheer!
Last but not least, The Local is a great hangout and a more low key, hole in the wall bar that offers pool, cornhole and other games to play while you support your favorite sports team. The Local has a great selection of craft beer and a full bar that will make anyone have a great time during games.
If you'd like to get out of the West Campus are and more towards East Campus closer to the stadium, there is a bundle of places to hang out so close to the stadium, you can feel the rumble. The Varsity Pizza and Pints is a perfect place to experience the school spirit and enjoy some fresh slices and ices. You can't beat the location to the game, especially if you plan on tail gating before the madness on the field begins.
Austin is full of pride, especially for The University of Texas Longhorns and there are plenty of places to show your support for the athletes without going to the games.
Hook em!